Digital Flyers – Lower Cost, Better Tracking, Better Targeting
Transition from Print to Digital Flyers
Save Gobs of Money
Promote your digital flyers online and save production/distribution costs.
Automatic Notification
Automatically email notify customers interested in your coupon flyer.
Digital Tracking
Track and build target audiences based on interest in types of offers.
We work with and support:
Agencies
Independent Marketing Companies
Large Businesses and Brands
Corporate Marketing Departments
Franchisors, Franchisees, & Independents
Digital flyers are different than digital postcards. Both advertising methods are effective, but each of them do different things for your establishment. At That's Biz, we strive to offer as many advertising methods as we can to help owners of restaurants, bars, and chains. Digital flyers are tools that will provide your customers with information about your establishment for a more affordable price than printing out hundreds of flyers. Initially, when people were trying to get the word out about their restaurant, bar, or chain, they would use flyers to spread the word, but most of those flyers would end up in the garbage a few feet away.
With digital flyers, you don't have to worry about someone throwing away your flyer because it's all on the Internet. That's one of the many benefits to using this form of advertising to get your point across about your restaurant, bar, or chain. Another benefit to using digital flyer is that it's easily customizable. You don't have to worry about printing and sending out the flyers because it's all online and in digital form. In addition, there are many ways that you can create engaging, inspiring, and beautiful flyers to show your potential customers what they could take advantage of when they come down to your restaurant, bar, or chain.
Another benefit to digital flyers is the easy distribution. All you need to do is click a few buttons instead of purchasing postage and spending a lot more money than you would with digital flyers. Thanks to digital tracking, you can also figure out who your audience is and how to target them based on their interests. For more information on digital flyers, take the time to contact That's Biz. We look forward to helping you cut down on costs while building up your target audience.  
Digital Flyers Track
The number of flyer views.
What coupons they looked at.
What coupons they redeemed.
Who placed an online order.
Who stopped in with the coupon.
What types of offers they were interested in.
For millennials print flyers are as foreign as phone books, yellow pages, or TV guides.
Digital postcards vs. direct mail postcards are one of the questions that many restaurant, chain, and bar owners ask themselves when they want to get the word out about their establishment. While digital postcards are the way of the future, many people feel that direct mail postcards are much more beneficial because they are seen in many people's homes. When someone gets the mail and sees a postcard from their favorite restaurant, they'll be much more likely to take advantage of the postcard. On the other hand, digital postcards save you as an owner money and are seen on average three times more than direct mail postcards.
At That's Biz, our goal is to make advertising methods for your restaurant, bar, or chain much easier. This means comparing and contrasting what the best advertising methods are for your establishment and that falls within your budget. One of the ways that we can help you is by informing you about the digital postcard services. When it comes to digital postcards you can expect it to be sent to 25,000 people while saving you money on postage. They will be seen by three times the amount of people and they'll be delivered during the day and the time that makes the most sense for them. In addition, this advertising method offers unparalleled targeting, exclusive offers, and everything is done for you.
If you want to get the word out about your establishment easier and better, then That's Biz is the right company for you. We'll keep it simple and help you make exclusive offers to your customers. If you want to see how digital postcards work better and more efficiently, then check out our video to learn more. For any additional information you'd like to inquire about, take the time to reach out to us.
Digital Postcards Get Results
Drive in-store or online order sales
Promote grand openings or special events
Provide exclusive single use offers
Target customers interested in your competition
Reach people that live, work, or traveling in your area
Build your email list and target audiences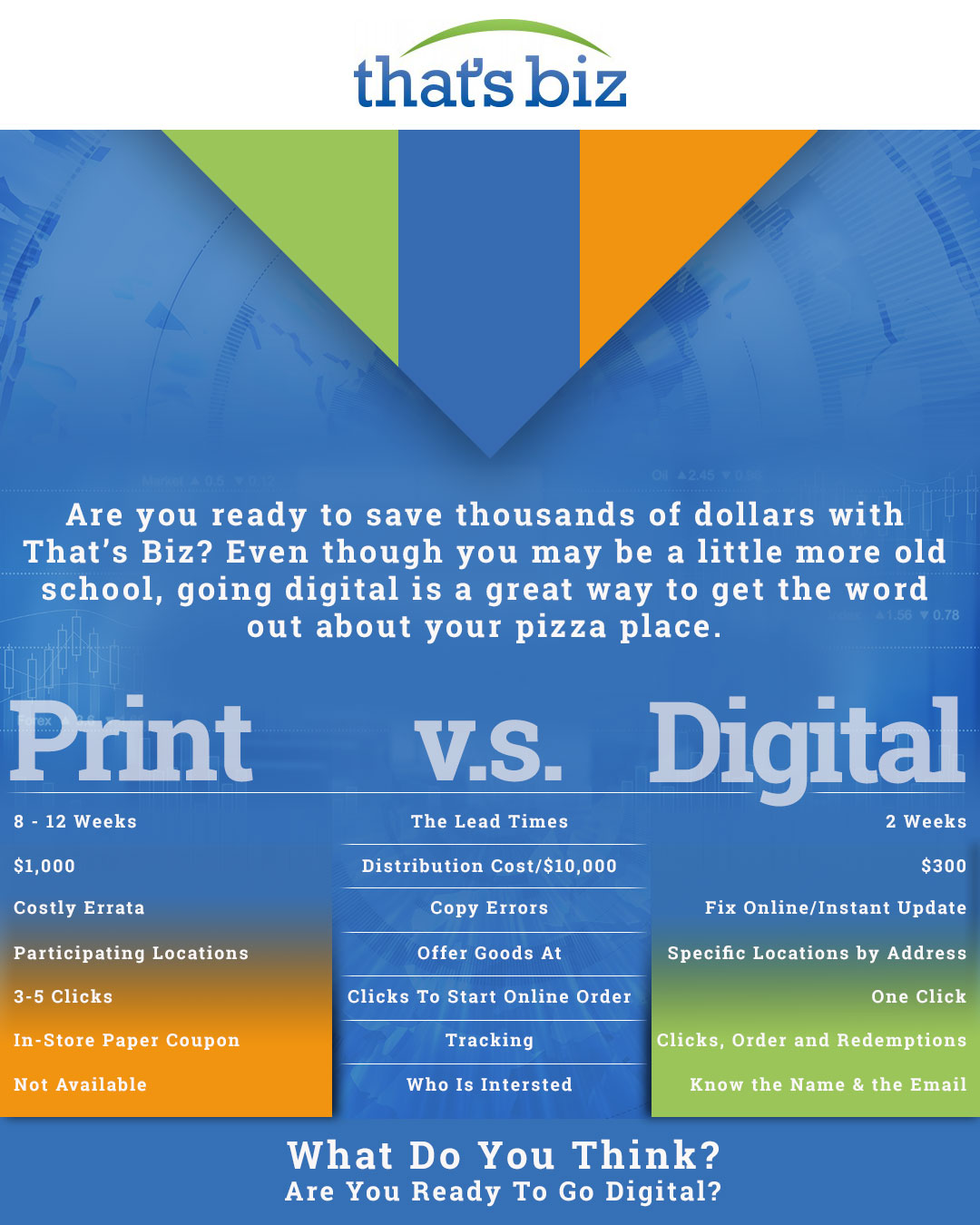 Answers to Frequently Asked Questions
What is a Digital Flyer?
A digital flyer is a dedicated mobile friendly webpage that contains individual digital coupon offers that customers present on their smartphone in-store for redemption.
Why use Digital Flyers vs Print Flyers or Mailers?
The cost to produce and distribute print flyers can vary from $300 to $1,000 for local distribution to 10,000 local homes. Each month you have to send the print flyers because you are not able to send the flyer to just the people that are interested.
Production costs of digital flyers are as low as $27 per month to create the flyer. Promote your digital flyer online (for much less than print distribution costs) and eventually identify the people locally that look at your flyer. You can also automatically email notify people interested in your flyer offers each time you add new offers.
Can I promote online order offers on the digital flyer?
The coupons on the digital flyer can include online ordering links that drop the customer right on the location's online ordering page on your website.
Print coupons require a customer to get online, navigate to your website, go to online ordering, and then pick the location just to start an order.
Is my digital flyer mobile friendly?
Your digital flyer and associated coupons are designed to be mobile friendly. Email marketing and Facebook ad statistics show that 60 to 70% of your customers will be viewing your digital flyer and coupons on a mobile device.
What is included in the digital flyer pricing?
A digital flyer for a single location costs $27/mo which includes:
1. Creating the digital flyer webpage.
2. Creating the associated digital coupons.
3. Installing your Facebook ad pixel on the coupons and flyer.
4. Providing coupon tracking and redemption reports.
5. Emailing completed customer feedback surveys.
How can I track online ordering purchases?
Use online codes on the coupons that are specific to the digital flyer. That will allow you to use online order reports to show the number of redemptions from the flyer.
Can my POS system track coupon redemptions?
Your digital coupon can include a PLU code your staff inputs for the discount which allows your POS to track the coupon usage as well. Our That's Biz coupon system also tracks clicks and redemptions.
How do I know the customer had the coupon?
After redemption a unique code displays which is recorded with the sales transaction. The code is also automatically recorded in the That's Biz coupon system preventing employees from giving coupon discounts to customers that did not have a coupon.
Can I get customer feedback about my business?
Our digital coupons include a customer feedback survey after coupon redemption. Customers are asked to provide a five-star rating and comment just like on Yelp. As soon as your customer submits the survey their feedback response is emailed to whomever you designate.
What is the lead time to update the flyer with new offers?
Typical lead times are two weeks to post new coupon offers on your digital flyer.
Who manages my campaign?
Our operations team manages the coupon creation process for your flyer.
How will I know if my digital flyer is working?
The bottom line is the number of people that come in the door with the coupon offers featured on your digital flyer.
Here are other ways to track results:
Your digital flyer lists the number of webpage views for the current coupon offers.
We track coupon clicks and redemptions per flyer.
Google analytics tracks the total page views.
Facebook will track the number of people that have viewed your digital flyer and coupons over the past six months.
What do I need to provide to create the coupon offers on the digital flyer?
Ideally you can provide us proofs of your current flyers. If you do not have proofs, let us know the offers you want to run and provide our team branded images and logos. We can also capture images from your website or Facebook pages.
Over time we will have a library of your offers making it easy to create new offers.
How do I restrict the coupon to a single use?
That's Biz flyer coupons include proprietary technology that allows a customer to show the coupon on their smartphone and then redeem the coupon in front of your staff without the phone leaving your customer's hands.
We have distributed over 500 million digital coupons over the past five years.
How will my staff redeem the coupon?
At the top of the coupon is a button that says, "Show Coupon to Server". Your staff reviews the coupon offer and asks the customer to touch the green button. The customer confirms they are ready to redeem and the coupon is redeemed.
How long does it take to redeem the coupon in-store?
The coupon redemption process is simple and fast. Redemption takes less than two seconds over 3G, 4G, and Wi-Fi connections. The phone never leaves your customers hands during the redemption process. Coupon redemption does not require POS integration.
What is happening during the redemption process?
Redeeming the digital coupon verifies:
• The coupon is not a fake.
• The coupon has not expired.
• The coupon has not already been redeemed.
If your customer already used the coupon their phone will indicate it has already been used and the date and time it was used.
Can digital coupons be shared with friends and family?
You can choose to allow your customers to share your coupon with friends and family. Your customers' friends will request a coupon just like the customer did. The shared coupon is also restricted to a single use.
Can I provide unlimited coupon usage?
Some business owners don't care if a customer uses the coupon over and over. If the customer follows your business you will know who redeems the coupon. Flyer visitors can access and use unrestricted coupons. In this case you will not know who requests and redeems the coupon.
How is a Digital Flyer distributed?
Your digital flyer is a dedicated webpage. Online you can direct customers to your flyer using your email club, text club, Facebook posting, Twitter posting, or your website. You can also pay to advertise your flyer on Facebook.
Every flyer is assigned a dedicated short URL. You can promote your flyer in-store passing out business cards with your short URL or putting your short URL on print materials. The short URL makes it easy for customers to get to your flyer on their smartphone.
What are the advantages of using Facebook ads?
Facebook ads provide ad targeting capabilities that include:
1. Local geography – radius, zip code, DMA
2. Time of day and day of week ad distribution
3. Demographics including age, sex, Mom's, married, etc
4. Interests such as type of cuisine, health conscious, etc.
5. Interest in your competition
6. People that live, work or a travelling near your location
This allows you to be very precise choosing who are the people most likely interested in your flyer offers.
What are the advantages of the Facebook ad pixel?
Your coupons and flyers can include your Facebook ad pixel. This will allow you to build local audiences of the people interested in your coupon flyer. This is equivalent to being able to identify everyone locally that looks at your print flyer. Over time you can dramatically reduce Facebook ad costs promoting your flyer offers because all interestred customers will be in an audience you can target.
Your coupons can also be categorized by type of offer and build Facebook audiences based on the offer type. If you want to promote a specific type of offer you can bet that the audience that has shown past interest will be the best performing audience for your ad.
Can I put my flyer offers on my website?
Yes you can. We can provide you a snippet of code (iFrame) that will list your flyer offers right on your website. iFrames are the same type of code that Facebook uses to create a window to your Facebook page on your website.
How does the customer get the coupon?
Your digital flyer will have your offers listed. When a customer wants to view the coupon details they will touch the "Get Deal" button. This reveals a smartphone friendly coupon and lists all of the offer and restrictions details.
Spend less and learn more about your customers.
Call Us Today:
866-575-4769 x1
"It's tough to think about changing something that has worked for years."
"To move from print flyers to a digital alternative requires a solution that is more conevnient for your customers and less time consuming and costly for you."
"We spent the past four years building the solution for chains like yours. Give us a call."
Dave Gonynor
That's Biz Has Been Seen In: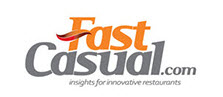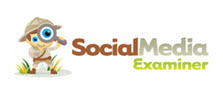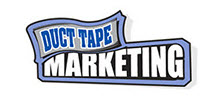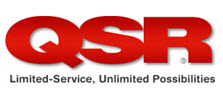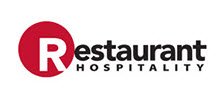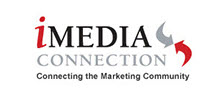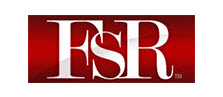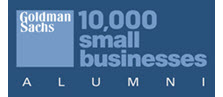 Contact Info:
Email: TellMeMore@thatsbiz.com
Phone:  (
833) 429-1680